We don't know about you, but we feel like we blinked and its October! It's officially pumpkin spice, puffer jacket season. Summer does seem like a distant memory (obviously minus the coconuts, they stick with us 365 days a year) but what better way to get us in the autumn mood than some cozy, autumnal recipes.
For the one with a sweet tooth: Vegan Black Bean & Peanut Butter Brownies
Can we have a little commotion for these brownies?! Not only are they higher in protein than regular brownies, thanks to the black beans, but they're also a great source of fibre from the oats. A sweet treat that's going to fill you up and satisfy those sweet cravings? Yes please!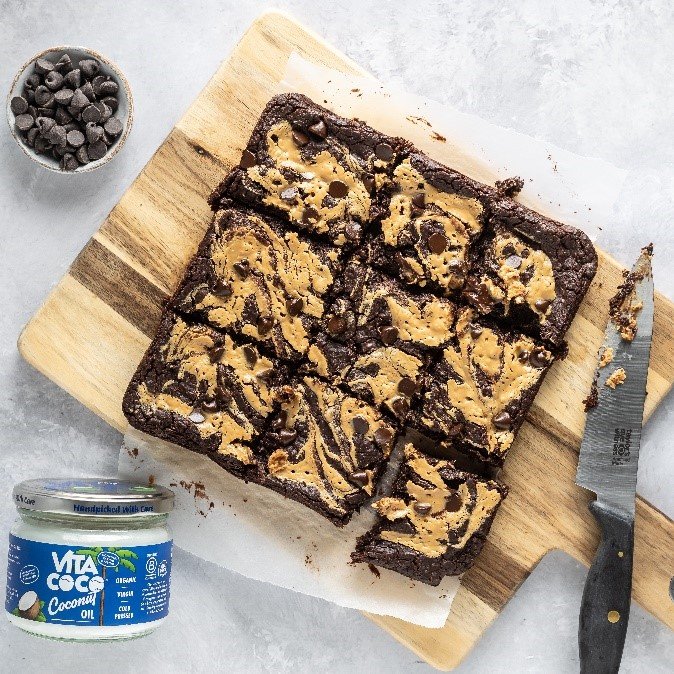 Serves: 9-12 brownies
Ingredients:
1 tin black beans, drained and rinsed
30g oats
3 tbsp almond milk
80g sugar
4 tbsp cacao powder
1 tsp vanilla extract
½ tsp baking powder
4 tbsp Coconut oil, melted
80g vegan chocolate chips
2 tbsp smooth, runny peanut butter
Instructions:
Preheat the oven to 180c and line a square brownie tin with parchment paper.
Add the black beans, oats and almond milk to a blender and blend until smooth.
Melt the coconut oil and set aside.
Add the bean mixture to a mixing bowl with the sugar, cacao powder, vanilla extract, and baking powder.
Pour in the coconut oil and mix until smooth.
Stir through the chocolate chips, save a few to sprinkle on top (if you eat some we won't judge).
Pour the mixture into the brownie tin and spread out evenly.
Dot the peanut butter on top and use a knife to swirl through.
Sprinkle the remaining chocolate chips on top.
Bake for 20 minutes, until mostly set but slightly gooey in the middle.
Allow to cool completely in the tin before lifting out, slicing and serving.
For the one looking for a nice warm comfort meal: Thai Green Curry
This hearty coconutty curry is perfect for those chilly evenings. You can also pack as much veg in as possible and nourish your body from the inside out! If tofu isn't your thing, feel free to swap it out for any other meat alternative 😊.
Serves: 2
Ingredients
2 tbsp Coconut oil, melted
1 block tofu, cubed
2 tbsp Thai green curry paste
½ cup coconut cream
400ml Pressed coconut water
100g tenderstem broccoli
100g baby corn
100g pak choi
Coconut rice, to serve
A squeeze of lime (optional)
Instructions
Put the coconut oil into a pan and once hot, add in the tofu and fry for around 5 minutes.
Next add in 2 tbsp of Thai green curry paste and fry for a couple of minutes until fragrant.
Then stir in coconut cream and coconut water.
Add in the tender broccoli and baby corn and simmer over a medium heat until tender.
Once the veggies are tender, add in the pak choi and cook for a further 2 minutes.
Serve with coconut rice and a squeeze of lime if desired.
Be sure to tag us in your autumnal recipes and bakes on socials @VitaCocoEU and check out our Pinterest, for tons more mouth-watering coconutty recipes!