The UK's #1 coconut water brand, us of course, have a range of delicious cocktails and mocktails to fuel the feel-good factor this festive season.
After a couple of years 'off' Christmas parties, this year's diary is jammed-packed with work parties, Christmas markets, pantomimes, and entertaining. But if you are looking for a way to impress your guests…then look no further. We have some delicious, easy mocktail and cocktail recipes that will be sure to earn you the host-with-the-most accolade this Christmas.
Coconut Snowball Cocktail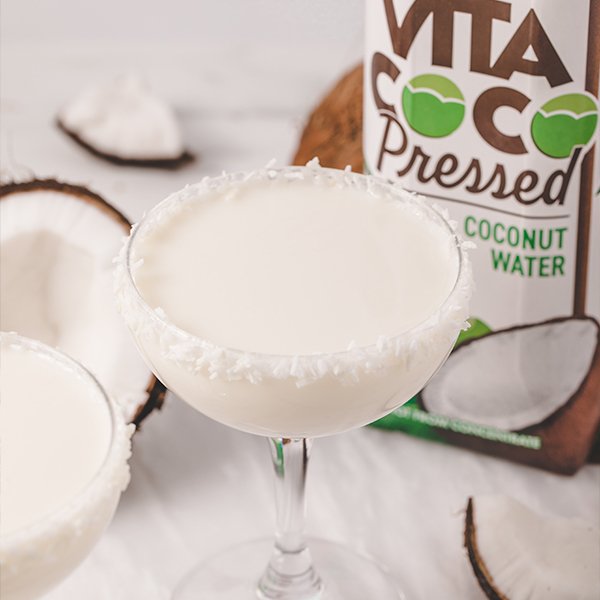 This wintery looking coconutty cocktail is perfect for entertaining – serve as guests arrive or delicious post dinner!
Ingredients – (Serves 1)
• A handful of ice cubes,
• 3 tbsp Pressed coconut water
• 1 ½ tbsp dairy-free cream
• 25ml Coconut rum (or white rum)
• ¼ tsp vanilla.
• To Serve: Desiccated coconut & our organic Coconut Oil.
Method
Pour a small amount of melted coconut oil onto a plate, and some desiccated coconut on to another plate. Dip the rim of a cocktail glass into the coconut oil, and then into the coconut. Leave the glass upside down for a few minutes, whilst you make the cocktail. Put a handful of ice cubes into a cocktail shaker, followed by the coconut water, cream, coconut rum and vanilla. Shake well, and strain into the coconut rimmed glass.
Raspberry Coconut Alcohol-Free Mocktail
Looking for something a little fruitier? This coconut and raspberry mocktail is set to offer some delicious refreshment to any gathering.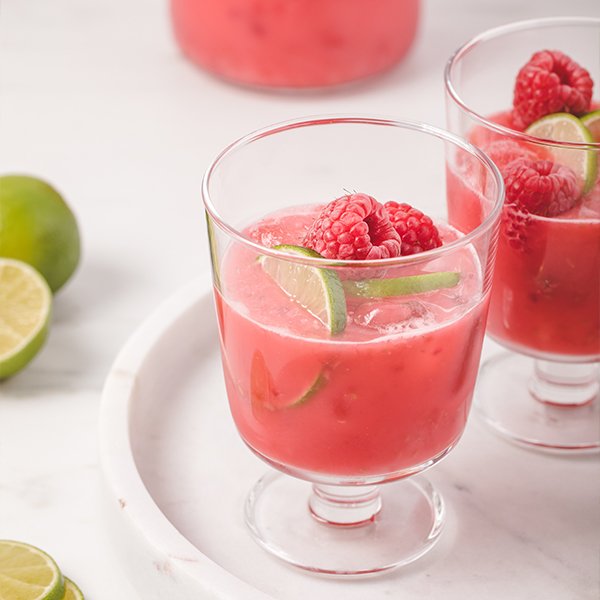 Ingredients – (Makes 1 large pitcher)
• 350g frozen raspberries
• 4 tbsp fresh lime juice
• 2 tbsp agave syrup
• 720ml Pressed coconut water
• 360ml sparkling water.
• To Serve: Fresh raspberries, lime slices, ice
Method
In a large bowl, mash the raspberries, lime juice and agave syrup together. Add into a pitcher / serving jug and pour in the coconut water, followed by the sparkling water. Stir well. Serve with ice, lime slices and fresh raspberries for that Christmassy look!
Coconut Espresso Martini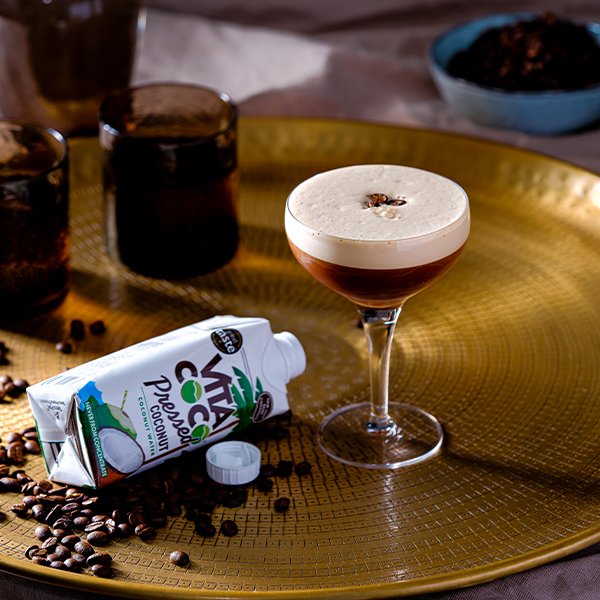 Coffee plus coconuts…just when you thought coffee couldn't get any bet
ter. Try this coconut espresso martini for an indulgent coconutty twist on the classic. A great way to start the night…or keeping it going a little longer!
Ingredients
• 35ml vodka
• 20ml coffee liqueur
• 25ml Pressed coconut water
• 25ml fresh espresso
• 5ml sugar syrup.
• Garnish – 3 espresso beans.
Method (Shaken)
Add all the ingredients into a shaker, fill with ice & shake hard for 8-10 seconds Fine strain into a coupe glass. Garnish with 3 espresso beans
Pina Colada
An oldy but goldy, this super simple Pina Colada is guaranteed to have you imagining what Christmas on the beach could taste like!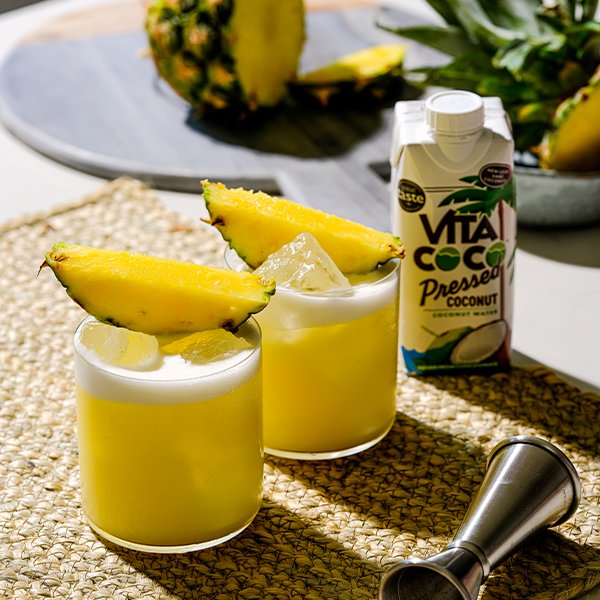 Ingredients
• 50ml coconut rum
• 50ml Pressed coconut water
• 75ml pineapple juice
• 15ml fresh lime juice
• 15ml agave syrup
• Garnish – Pineapple slices.
Method – (Blended)
Blend all the ingredients with 45g of ice cubes (approx. 4 small cubes). Pour into rocks in a glass and garnish with a slice of pineapple.
And if that entertaining and one too many a cocktail gets the better of you, try our hangover-saviour-smoothie! Our coconut water is packed with naturally occurring electrolytes and is high in vitamin C – supporting that immune system when the busy schedule starts wearing you down.
This hangover recipe was created to help you get through the festive season: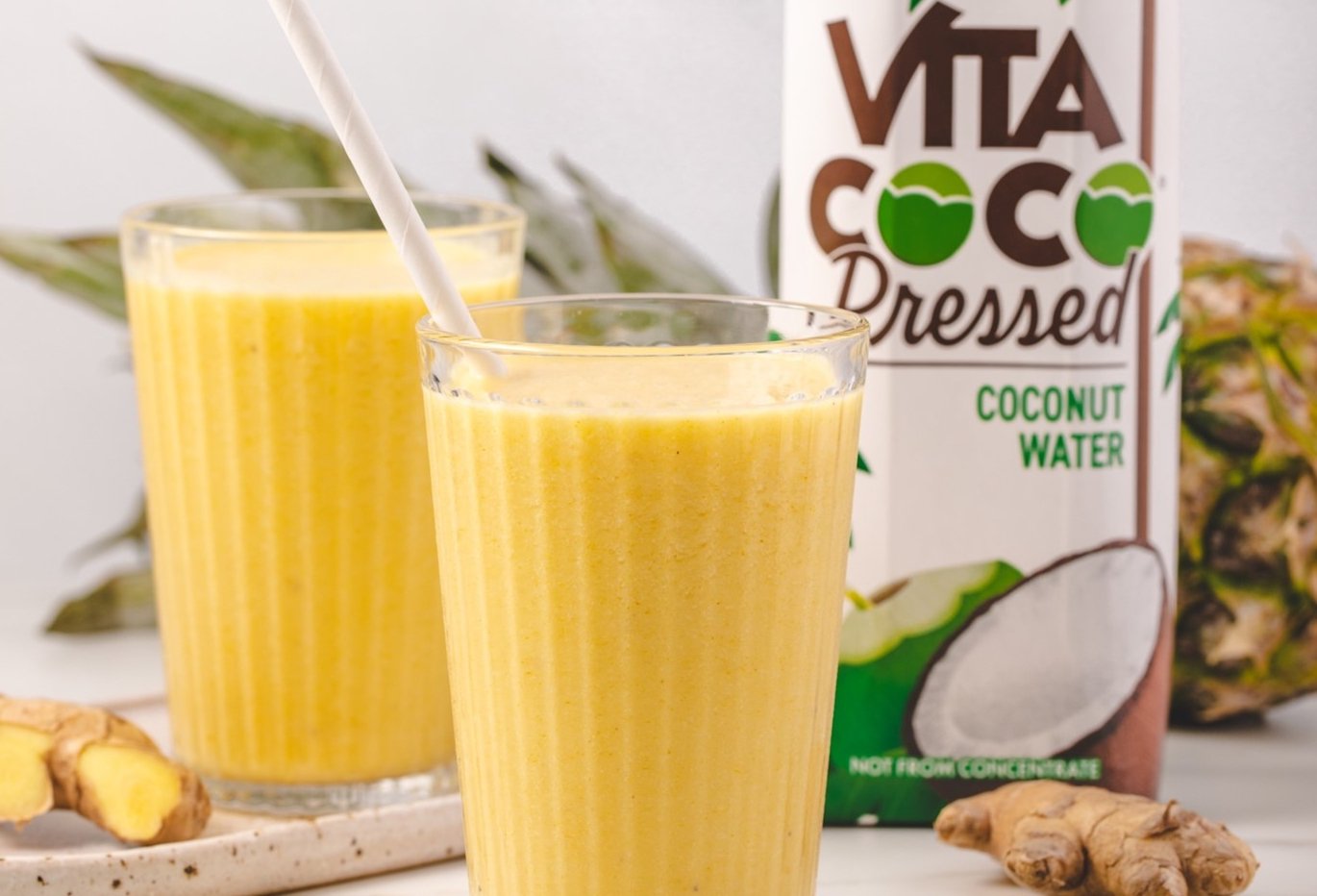 Pineapple and Coconut Hangover-Helper Smoothie
Ingredients (makes 2 Glasses)
• 240ml Pressed coconut water
• 300g frozen pineapple
• 1 ripe banana
• A chunk fresh ginger, peeled
• 60ml greek yoghurt
• 1 tsp agave syrup (optional)
Method
Place all the ingredients into a blender and blend until smooth. Pour the smoothie into a glass and kiss that hangover goodbye (mistletoe not required).
For more coconut tipples and recipes check out our Pinterest, full of coconutty delights.